Electricity Pricing Breakdown: Capacity Cost Components (Article 3 of 5)
January 06, 2014
Electricity Pricing Breakdown is a new series in Market Monitor designed to give buyers a better understanding of the many cost components that drive the total price large commercial and industrial customers ultimately pay for electricity. 
The previous edition focused on energy cost components, which make up the total cost of energy a business actually consumes. These variables are located at base of the energy pyramid, a tool created by GDF SUEZ Energy Resources to demonstrate how pricing components are categorized and how they behave from a risk management perspective.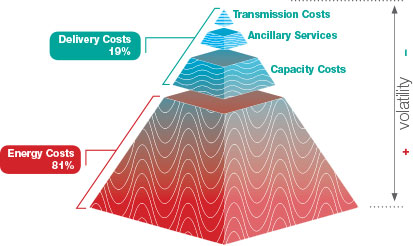 This week's edition will focus on capacity costs in the Eastern regional transmission organizations. These variables, located in the upper portion of the pyramid, are included in the delivery section, which breaks down the pricing components involved in flowing energy from the output side of the generator to the meter. 
Depending on the market in which energy is procured as well as the customer's individual load factor, these costs can account for up to 15 percent of the total bill. Since ERCOT is an energy-only market, consumers located in the deregulated portions of Texas are not charged for capacity. However, consumers located in PJM, NEPOOL, and NYISO are all billed for the costs related to this component.
In these markets, each load serving entity is charged for their daily unforced capacity obligation priced at the applicable zonal capacity price for the delivery year. The intent of a capacity market is to ensure resource adequacy by sending appropriate price signals to encourage resources to provide sufficient and deliverable capacity in locations where it is needed.
Capacity carries a degree of risk that is subject to the construct of each regional market. In PJM, capacity involves a hybrid of market-based and non-market-based risk that can be hedged. In NEPOOL and NYISO, capacity carries a market-based risk that can be hedged or mitigated through risk premiums, a cost adjustment to cover the potential for future changes. 
For all markets with capacity, pricing for the component is based on consumption ($/MW), with contract term, location, and load factor as key aspects in determining ultimate costs. Generally speaking, lower load factors result in higher capacity costs. 
Although the exact formula for determining pricing for this variable differs from market to market, there are important considerations all buyers in regions with capacity should understand when reviewing offers. 
Be sure to know the capacity tag, also known as peak load contribution (PLC), being used to calculate the cost. PLC, which is determined based on an individual consumer's portion of demand on the total peak load of the electric grid, is established annually for the coming year in June and runs through May. Also, identify the capacity rate upon which the proposal is based. These rates are known several planning years in advance and are available on the website of each region's independent system operator. 
Seeing that this component has a large degree of variability and can be accounted for in various manners by each supplier, it is VERY important to determine whether or not your supplier is using the correct PLC for your proposed contract term. Suppliers can use expected PLC or current capacity prices (with true ups), among other tricks. If you are interested in performing an apples-to-apples comparison of supplier offers, look at the details about capacity very closely. Finally, check the contract language for capacity true ups or pass through costs.
Stay tuned to future editions of Market Monitor as the Electricity Pricing Breakdown series continues, focusing next on the cost components involved in ancillary services.