Solar offerings from ENGIE, multiple ways to get involved
ENGIE offers several solar options for commercial and industrial customers. Many choose solar because they prefer to own their own solar arrays. Big corporations, such as Walmart, Prologis, Target, Apple, and Costco, are among the top corporate users of on-site solar, often through PPAs and lease structures.
Another option is community solar – sometimes referred to as solar gardens, off-site solar, or shared solar. Community solar is gaining traction among commercial and industrial customers. These programs allow consumers to take advantage of solar without on-site systems. Over 60 percent of buildings cannot accommodate rooftop solar arrays due to lack of space, limited exposure to the sun, or the age of the roof.
Community solar energy arrangements allow several consumers to share the benefits of a single solar project. These solar gardens are typically located at a remote site instead of a consumer's roof. Solar energy is generated is delivered to the utility's electrical grid. Companies that join a solar project are assigned fractional allocations of the project's total capacity. Credits resulting from the generation from the subscriber's allocation appears on electricity bills. Modern community solar programs are designed to offer savings to customers, with products often structured as a "discount" to the credit value. This also gives companies an opportunity to promote solar energy without having to install an array directly on their roofs.
Additionally, community solar is an alternative to the long-term, high capital investment required by a rooftop solar array. Most residential and small commercial consumers cannot make the large capital outlay. Community solar offers them a lower cost alternative.

Most modern community solar programs are structured to generate bill credits based on the solar project's generation, which are offered to subscribers at a discount to the value of the credit. 
SMART program and role of ENGIE Resources
ENGIE has purchased over 20 MW of net metering credits from 12 community solar farms in Massachusetts to offer our customers for the term of their commodity contract. Commercial & Industrial customers in more than 300 communities in the state could potentially tap into this energy from the sun.
Instead of purchasing panels, residential, commercial, and industrial customers can receive NMCs on their monthly utility bill. When customers participate, the utility calculates the kilowatts assigned to them and applies a credit to their electricity bill. ENGIE contracts with the community solar farm to purchase the NMCs and invoices customers for 90 percent of their cost – a savings of 10 percent. NMCs can be assigned in blocks of up to 25 kW per project, each block having a potential savings of about $500 per year.
In 2019, ENGIE acquired a four-project Solar Massachusetts Renewable Target (SMART) Program portfolio comprising 25 megawatts of solar capacity and 22 megawatt hours of GridSynergy® energy storage capacity. The portfolio will be operated by ENGIE's Distributed Solar team and ENGIE Storage and participate in ISO New England wholesale markets. The portfolio has since expanded to 38 megawatts of solar and 37 megawatt hours of storage capacity, with more in the pipeline.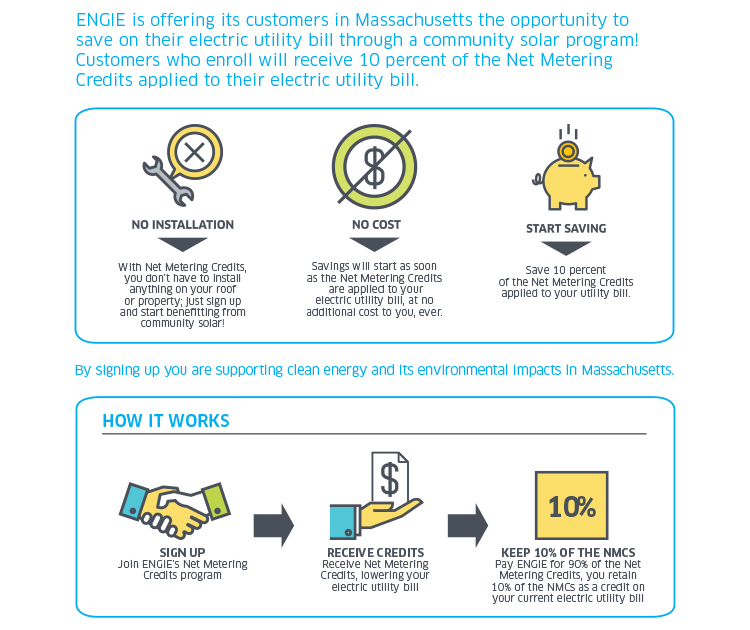 Please contact Thomas McCarthy at (508)574-0720 or Thomas.McCarthy@Engie.com for more information.